Vienna, Austria—Former Western Balkan heads of state, high-level officials and Balkans experts were the panelists at a one-day conference at the Diplomatic Academy of Vienna - Vienna School of International Studies. The Balkan Leadership Conference of November 11, 2022, titled "Western Balkan Countries and EU Relations – Challenges and Perspectives," was held jointly by the Europe-Middle East branch of UPF and the Podgorica Club of former heads of state of the Balkan Peninsula.
The approximately 150 participants included representatives from 17 embassies, scholars, and NGO representatives. This event followed two UPF conferences on Western Balkan peace and security held in April and June of this year, co-sponsored by the Podgorica Club and the government of Kosovo, respectively.
In the context of the war in Ukraine and its impact on Western Balkan peace and security, respected statesmen from the region, as well as Austrian politicians and diplomats, offered their perspectives on the state of relations between the Western Balkans and the European Union.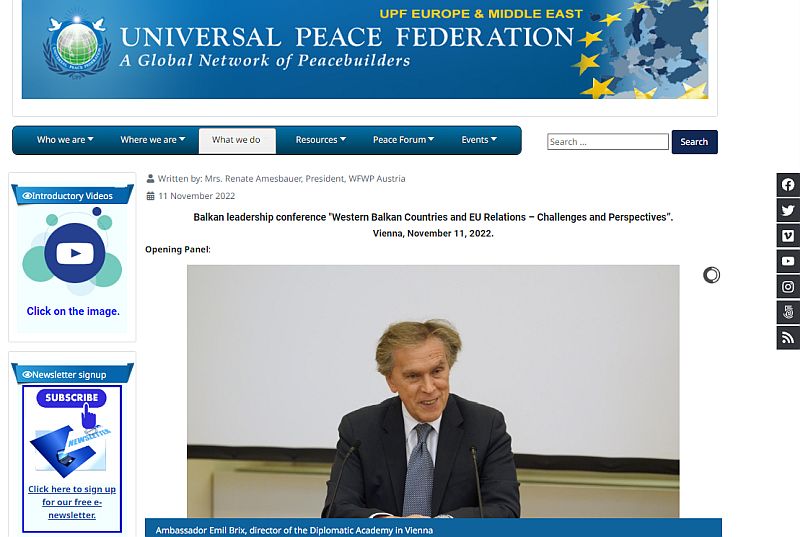 Ambassador Emil Brix, director of the Diplomatic Academy in Vienna, stated that as a result of the Ukraine war, we now tend to speak more urgently about the European security architecture and about making sure that the Western Balkans do not become front states in an ideological war between good and evil. Ambassador Brix thanked the participants for coming to the Diplomatic Academy in Vienna. He praised the Podgorica Club for taking ownership of the situation in the region, and assured them of his continued support.
In recorded welcoming remarks, Dr. Wolfgang Petritsch, the president of the Austrian Institute for International Affairs, described the new situation that has arisen in Europe as a result of the Ukraine war and all the ripple effects in the region and beyond. He suggested that the Western Balkan nations should be included first in an accelerated process of accession to the European Union and encouraged all states that are already members of the EU to use their expertise and contribute to this process wisely. He concluded by saying that this conference in Vienna was taking place at the right time.
Dr. Katsumi Otsuka, Chair UPF Europe and Middle East, greeted everyone on behalf of UPF and expressed his gratitude that the conference could be held at such a distinguished place in Vienna. "The hope of all ages has been to experience peace and prosperity", he said. However, especially during the past 25 years we have experienced how difficult it is to realize this. The Ukrainian war in particular has shown us that there is still a long way to go.
The EU and NATO – European Security Architecture and the Position of the Western Balkans in Light of the Russian Aggression against Ukraine
Speaker: Dr. Werner Fasslabend, President, Austrian Institute for European and Security Policy
H.E. Alfred Moisiu, president of Albania (2002-2007),
H.E. Stjepan Mesić, president of Croatia (2000- 2010),
H.E. Mladen Ivanić, President of Bosnia Herzegovina (2015-2017)
Hon. Goran Svilanović, Serbian minister of foreign affairs (2000-2004)
H.E. Enver Hoxhaj, the deputy prime minister of Kosovo (2017-2019)
Western Balkans and the EU Accession Process Fatigue – Results, Responsibilities and Next Steps
H.E. Filip Vujanović, the president of the Podgorica Club and the president of Montenegro (2003-2018)
H.E. Rexhep Meidani, president of Albania (1997-2002)
Dr. Valentin Inzko, the high representative for Bosnia-Herzegovina (2009-2021) in a video message
H.E. Zlatko Lagumdžija, the deputy prime minister of Bosnia-Herzegovina (2001-2002)
Hon. Lukas Mandl, a member of the European Parliament from Austria
Dr. Michael Balcomb, a senior advisor to UPF for Europe and the Middle East
Youth, Peace and Security in Western Balkans – Moving Forward with the Energy and Optimism of the Next Generation
Slobodan Martinović, advisor to the former president of Montenegr
Aleksandar Savović, the chief of cabinet of former President Mladen Ivanić of Bosnia-Herzegovina
Lirjetë Avdiu-Vejsa, the chairwoman of the K Cultural Association, Vienna
Kirsty Rancier from Canada, the youth focal point for the United Nations Office on Drugs and Crime
Bogdan Pammer from Austria, the president of IAYSP for Europe and the Middle East
Luka Čekić, an expert on the Western Balkans at the International Institute for Peace
Contact:
Peter Haider, Universal Peace Federation Austria
+43 650 2588846
Diese E-Mail-Adresse ist vor Spambots geschützt! Zur Anzeige muss JavaScript eingeschaltet sein!
https://www.upf.org/associations/iapp + http://www.weltfriede.at